Running this web-site means I receive a wide array of e-mails. More often than not they are from SEO companies telling me they will kindly write an article for me (for free!) as long as they can include links back to their loans/insurance client's site. Usually they will include links to articles they claim to have written which will, as well as being festooned with grammatical errors, possess different author pseudonyms too (using multiple names for guest posts has never struck me as overly trust-worthy).
Thankfully, this is not always the case. I will occasionally receive a message which is slightly left-field and which piques my interest. This weekend was one of them as I found in my in-box a correspondence from a lady who had clearly take the time to tell me about something I might be interested in (and I was) and why it would make a good fit for
The Totality
. Whilst I have not previously covered web series on this blog before I decided to give the show, which is called
In Transit
(and was sent to me by it's co-producer Maddy Butler), a watch before deciding whether to cover it here and, as you can tell by the fact you are two paragraphs deep into a long-winded introduction, I was suitably impressed to tell you, my readers, all about it!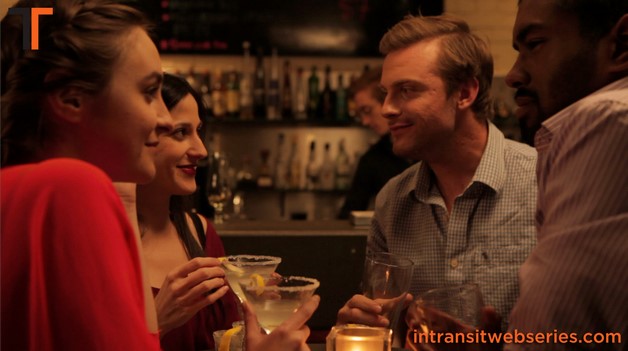 In Transit
is a series that grabbed my attention, and hopefully that of my readers too, as a comedy about four twenty something year old men trying to work out their place in their own lives. Caesar, Arj, Marcus and Matt begin the series attending a party they clearly do not want to be at and it is the first episode which sets the tone completely - it's easy to gage the tone of the understated, dry humour which the show makes its trademark early on and, with Caesar, who beings the very first episode clock-watching in a humdrum office, announcing that perhaps his dead-end job is getting in the way of his true passions, a narrative thread is formulated to hook in viewers to return for the next six minute installment. Whilst I thoroughly enjoyed some of the more humurous moments, not least Caesar's struggle to make small talk at a social shin-dig resulting in a less than subtle blow-off from the four protagonists, it is the character arcs I can see developing that will keep me coming back for more. Will Caesar get to live his dreams? Where is Marcus' love life going to lead him and, more importantly, who will it lead him to?
The first episode of seven debuted on October 7th on their
Youtube channel
with the remaining six episodes scheduled to go live once per week. If you would like to find out more information about the show be sure to check out their official blog
here
.