There are some fads that catch on, not for practical reasons but simply because, it would seem, everyone else is doing it - the Passive Peer Pressure Effect. The 90s, a decade I will keep referring back too as the nadir of human fashion, saw about 90% of men decide to sport Stone Roses style fishing caps teamed with black dark-framed, orange lens glasses and tracksuits making them look like some type of hybrid-sports sex pests. There is no way to explain how this style became so fashionable other than a bad-dressing illness spread like a kind of bird flu.

I am reminded of this as I think of waistcoats (or "vests" as they are known in the USA) and a trend of wearing them that no-one can really explain. Whereas a few men have managed to give them a winning contemporary tweak, Justin Timberlake being a prime example, few people understand how to wear waistcoats in the manner in which they were invented. This problem seems to stem from male fashion herds completely ignoring one useful rule and inventing another which simply did not need to exist. The first has to deal with how to wear waistcoats in context with trousers and the second has to do with the misconception at how they should be fastened.
Like the Loch Ness monster's existence, 9/11 being an inside job or Austin Powers 2 supposedly being a comedy, the way men should sport waistcoats has become the centre of widespread misconception. Many guys will often be baffled at why, when trying on waistcoats, they often seem to be short in the back - this is partially because the item was not designed to be worn in the modern style. In their heydey, waistcoats were worn as part of an ensemble which did not feature belts. Instead men would use the item to help conceal their braces (suspenders) and as such they would generally wear their trousers higher in the knowledge their vertiginous waistlines would be obscured by their waistcoat. (Many modern men will never in their life wear their trousers above the hips which used to be the correct style. Anywhere too far below the hips is plainly ludicrous although sadly this has become much more common, and less open to ridicule, than the former.)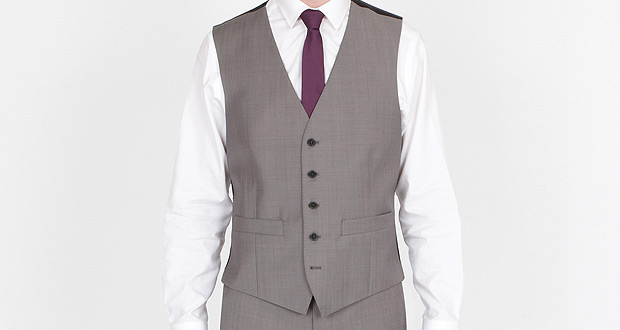 Another mistake many men make is leaving open the bottom button of their waistcoat (vest) without knowing the reasons for doing so. Some think this is simply an aesthetic choice but it actually stems from a practical decision - for those who are to spend their day engaged in physical activity, or even standing up or sitting down a lot, then the fastening of a bottom button would cause the outfit to ride up. So, if you plan to physically exert yourself in a three piece suit (like many early 20th century labourers would) then unfastening the bottom button is the correct choice. However, for evening events or attending conferences where you will be sat down for the entire day, the button should remain fastened.
Next time you are about to leave the bottom button undone ask yourself "why?" Is it because you think it looks good or are you just doing it like you think you should because other people do it? If its the latter, please consider that it was this mind frame that created the society in which Dido sold millions of records a decade ago before everyone realised they didn't actually like her. Ask questions people. Please keep on thinking about things before society devolves into a puddle of mediocrity. Button up or next thing you know, you too will own a copy of
No Angel
.