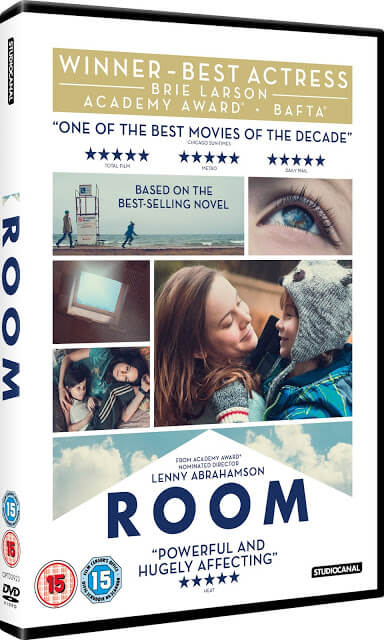 There has been no greater, more profound or powerfully moving film released in cinemas in 2016 than Lenny Abrahamson's
Room
.
Earlier this year, in my review, I wrote: "
Room
is not a film which is simply watched. This is a movie that is absorbed..."
The multiple award-winning feature, detailing the escape of a young mother and her daughter from captivity in an enclosed "room", is one of the truly great and most original motion pictures of recent years - one which immerses us into a world of euphoric discovery.
If you have not seen the movie as of yet, I give the highest recommendation possible that you should order a copy when it becomes available on DVD & Blu-Ray on 9th May via Studio Canal.
I'm not alone in offering my utmost praise either - very rarely do movies receive the critical praise which
Room
has. Aside from the plethora of five-star reviews it received, Brie Larson triumphed at the Academy Award for her highly emotional performance here.
If, however, you've already seen the feature, I'm quite confident you'll take no persuading to purchase a copy so as to relive the incredible sensations found across the running time. That the release comes with a director's commentary and a "making of" feature add to the appeal.
I'm delighted to say that, for those of you looking to get your hands on the movie, I am able to offer two of my loyalest readers a copy for themselves to own.
How to enter? Keep reading!
To enter the competition to win one of two copies of
Room
on DVD, simply log-in to the Rafflecopter form below with your name and email address - we promise not to share, or pass on, this data to any third parties but will use this information to contact you if your entry is successful.
Once logged in, you can enter the competition in up to two ways:
The first way to do this is to follow my (relatively new) Twitter account at
@KCBFD
. You can do this through straight through the Rafflecopter form.
Alternatively, or as an addition, please leave the name of your favourite book-to-film adaptation in the omments. Whether it is
The Princess Bride
,
Fight Club
,
Adaptation
, or any other you can think of, I'd love to hear your answer..
Once you've done this, you can confirm you've left a comment using the Rafflecopter form (by clicking the "Leave a Blog Post" option and then selecting the "I commented" box).
a Rafflecopter giveaway
The winners are selected at random through Rafflecopter and will be chosen on May 9th 2016 and contacted shortly thereafter.
The prizes will be sent out upon confirmation of your win. There are no cash alternatives and entries can be disqualified at the judge's discretion. Entrants must be 15 or over and have a UK shipping address to enter. Maximum of two entries per person - one comment, one Twitter follow each.
Good luck to one and all!