Can sex save the world?
I've wrote previously on The Totality about
how sex and movies go hand in hand
, and today's competition combines the two rather wonderfully.
A couple of you lucky readers at this site are eligible to win a copy of the latest film by Michal Marczak,
F__k For Forest -
a documentary about a German charity who raise funding for environmental causes dear to their heart by creating and selling amateur porn on the internet!
The documentary offers a unique look into a strange, albeit distinctive, subculture where nudity, sex with strangers, freeganism, and liberal drug taking are not just accepted but an approved way of life. The ultimate aim, however, of this rag tag group is to raise enough money, through the sales of their home made pornography, to purchase a piece of Amazonian forest to save the indigenous tribes who live there from the corruption of Western society.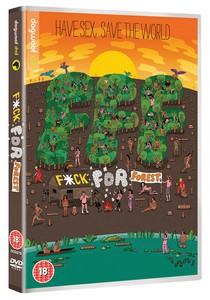 The prizes have been kindly provided to me by the good people at Dogwoof and there's a number of ways you can enter the competition and all can be filled in on the Rafflecopter form below. The giveaway ends on June 24th and winners will be contacted via email.
Remember if you're not one of the lucky winners ( or if you are and would like to purchase this as a gift for a loved one) you can
purchase this on-line here
. I'll be reviewing this film in the next week too so keep your eyes peeled.
Thanks for visiting and good luck!
a Rafflecopter giveaway