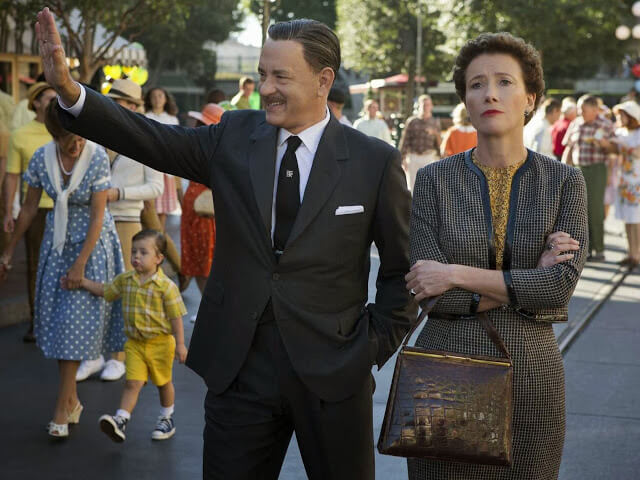 There are, I believe, only two types of people in the world: There are those whose hearts soar with weightless glee at even the briefest recollection of Disney's marvelous adaptation of
Mary Poppin s
, and then there are those who I simply do not even begin to understand. Strangely enough P.L. Travers, the author who created the magical nanny, fits neatly into the latter category – bemused and often angry at the big screen take on her literary creation.
Saving Mr Banks
, nearly fifty years after Robert Stevenson's magical feature first enchanted audiences, tells this story.
Emma Thompson stars as the prim and proper Ms Travers – a lady who should be addressed by her first name, Pamela, under no circumstances. She is curmudgeonly and cantankerous and would like nothing worse than to see her most famous composition translated into an overly sentimental and saccharine cinematic outing; Disney, and their bravura brand of bold pathos, would be the nightmare destination for her cherished creations to end up.
Sadly, the banal and ugly matter of money means that her ideals may be stretched and Travers agrees to meet the man behind the magic, Walt Disney (Tom Hanks) himself, to discuss his plans for a feature movie. Regardless to say, Travers is not best pleased with any of the ideas that are put before her – Dick Van Dyke is not a suitable actor, animation in the film is a ghastly suggestion and Mary Poppins certainly shouldn't be seen to do anything as uncouth as singing. Yet, despite her protestations, Walt attempts to seduce Travers to his vision with Southern bombast, a sprinkle of deceit and a spoonful of sugar or so.
Saving Mr Banks
is a delightful film it is hard not to be incredibly charmed by – for anyone with a love of
Mary Poppins
in their hearts, the sequences in which the Sherman brothers, played with winning zest by B.J. Novak and Jason Schwartzman, stumble their way into composing their iconic soundtrack is nothing short of an euphoric experience. A lilting rendition of Feed The Birds by Schwartzman provides this movie, as it does with the original, a moment of sheer bliss and its hard to imagine anyone not being humbled that the words they committed to paper could inspire such joyful melodies - yet, thanks to a prickly and spot on turn by Thompson,
Saving Mr Banks
almost makes it believable that someone out there could genuinely not enjoy
Mary Poppins
. This, in and of itself, is a miraculous feat.
Boasting an array of delightful performances (Hanks manages to add a needed touch of oleaginous slipperiness to his role rather than opting for hagiography; Thompson is superb), some warm humour and, yes, a dash of saccharine melodrama, John Lee Hancock's film is a feel-good biopic similar in tone to Marc Forster's
Finding Neverland
. At it's best,
Saving Mr Banks
charms us, makes us laugh and opens the heart to wonder - everything which
Mary Poppins
is from start to end. Sadly, the movie also falls curse to the plight of all modern "biopics" in which events from the past are held to have a direct cause on those of the presents - here, Travers childhood in Australia is presented as inspiration for her future writing and reason she holds her creations so dear. Yet, unlike Thompson's engaging battles with Hanks, little rings true or emotionally sincere in the flashback sequences which never feel like anything other than flashback sequences in a movie. Maybe Travers was right to be cautious of too much Hollywood affectation after all?
Despite its flaws, its certainly true that
Saving Mr Banks
is not practically perfect in every way, Disney's rather reverential look at one of it's crowning achievements is a modern feather in its cap too. In fact, I might go so far as to say that its supercalifragilisticexpialidocious.
Spoiler: Mary Poppins does indeed get made. It is one of the all time great movies.